When configuring STMS on your local SAP system, you might get the following problem: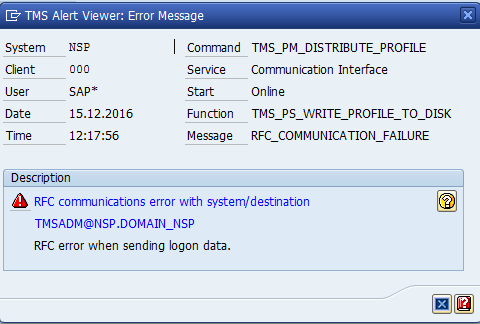 RFC communications error with system/destination email@removed _NSP
Message no. XT101
Diagnosis
An RFC error occurred in the TMS communications layer.
Target system: NSP.DOMAIN_NSP(000)
Function: TMS_PS_WRITE_PROFILE_TO_DISK
RFC message: RFC error when sending logon data.
System Response
The function terminates.
Procedure
Correct the error and execute the command again.
Follow SAP Note 1532825 – Deleting SECSTORE entries during system exportsystem copy will help.
If you are not able to get SAP Note, find more detailed manual solution here: http://abapacademy.com/blog/rfc-communications-error-with-system-destination/.