We teach individuals and development teams in companies to create functional, optimized & supportable codes.
You can start programming in ABAP from total basics, so that you will be able to:
find your first ABAP job or
scale your skills to the senior level
Don't have too much time to study? Don't worry! ABAP Academy achieves this using its "Unique ABAP Academy Teaching Methodology", which consists of three basic principles.
practical knowledge with only necessary theory
practical projects based on real life projects
mentoring support when you get stuck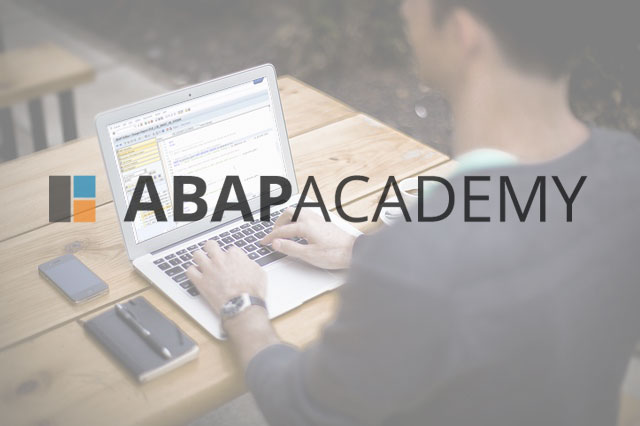 Do you want to learn ABAP from basics? Hi, my name is Ladislav Rydzyk, and I will help you with this!
I'm Ladislav Rydzyk, I spent years programming SAP software in ABAP programming language.
While programming and mentoring newcomers, I discovered how simple steps can be used as an powerful teaching strategy to skyrocket learning process for ABAP newbies and make them valuable members of any development team.
Now, I use this exact strategy in my trainings. Just check it out for FREE as well and join thousands of future ABAP developers and SAP Technical Consultants, gaining basic ABAP skills in ABAP Academy.
"I had the privilege to work together with Ladislav on a complex project. He showed that he is very well organized (effort estimations and deadlines) and experienced ABAP developer with good communication skills. This combination makes him a very valuable team-member."
"Ladislav is very well organized and solution focused. Estimates well and delivers timely which is a "rare" strength to find in the SW development business."
"Ladislav is very good with planning and self organization. His responsibility for work belongs to the top of his skills. He is really goal oriented and as a team member, he leads also the others to a successful finish of projects. Talented with ABAP OOP coding and designing of solutions in SAP."
.. and let me introduce myself more informally:

You might probably struggle with pronouncing my name, so just call me "Laco" or "Hribo" as my family and friends do. I am from Slovakia and I started to make living on the internet after many years of programming of SAP software and web applications.
I enjoy being with my wife and two small kids, riding bicycle, swimming, reading books and hiking. I also relax while programming, in my own speed. Definitely, all the things can be enjoyed with small children when you have creative mind, even programming ;).
How did I get to ABAP?
I have studied in Slovakia and also in the U.S. In 2006, during my university studies, I attended ABAP trainings in a company, which does implementation of SAP projects. I graduated from Robotics on Slovak Technical University with diploma thesis "ABAP Programming Guide in SAP ERP", which I designed for university students with help of guys from HP Slovakia. And that's how I got to ABAP.
I worked for HP Slovakia until economical crisis in 2008. In that time, there was little ABAP development needed and since I did not accept to become consultant back in 2009, so I left. Then I got back to ABAP in 2011 in Datavard, where I gained many many skills. In the time, when I came there, it was small company and I needed to learn many things, which I could not learn in a big company.
The most things I have learned in two following projects. The first one was the project, where I have actually failed. I was responsible developer for software, which was supposed to run on the biggest BW system in the world. My failure was based on:
not knowing to do proper effort estimations
this resulted in improper communication - basically provided wrong expectations to management
improper testing resulted from not enough of time
These all failures lead to time stress and mistakes. Basically it was nothing related to ABAP itself. This is why I believe that most of the trainings can not learn you to become ABAP developer for real life projects. They can teach you how to become regular programmer.
The second project was a project for SAP itself. It was called SAP ILM, which was basically a solution for storing archived data. I was honored to work with very skilled, around 50 years, old ABAP Developer from Germany, called Mathias. If I imagine developer, I imagine himself. And very good person though. It was a person who knew, how to implement project totally from the beginning till the very end. From brainstorming, through specification, technical design, proper communication with team, actual development, coordination of development, precise testing, well organized final steps before release and also support to customers. I have learned many new things in ABAP as well, even though I could not imagine, that something new in ABAP can be learned.
I worked on this project with the best team ever I worked with. As a symbol or reminder on how good team we were and how we can fill each others gaps, Mathias gave us 4 penguins from Madagascar story, since we were 4 people working closely together. After 2 years, project was going to be closed.
Programming vs. Voluntary projects
As I mentioned, I know to relax while programming. I love when things work in the way that I code. I also enjoy, when things are well organized. For me, programming is such activity, where I organize things and make it work smoothly. So either it is ABAP, web application or even programming hardware for my home automation specialties (not too much time left for that though ;))
My another passion is helping other people. I know it may sound cliche, but I don't know how to write it to make it sound more real. During my high school and university studies I was volunteering in many activities. Main reason was to help other people. In one of such activities I first met my beautiful wife.
After I graduated from the university, I started to work regularly in 8 hours per day jobs. Since I enjoyed voluntary work, I stayed in such activities with my wife, where we were leading two separate voluntary groups.
In that time me and my friends started a new non-profit social project to help disabled children in Slovakia by collecting and separating plastics. I became a coordinator of whole team and since all our members were mostly employed, we were able to start up this project from our finances.
Then our first and second child was born and there was less time for everything. Finally I have decided to not continue with any voluntary projects in 2015.
Why ABAP Academy?
Finally I started to think how to make it work, so that I can:
do programming and kind of voluntary work to help others
make use of my non programming skills in both areas (professional and non-profit) and put it all together to help others become experts
do it in my own speed
and still have time for my family and other things that matter to me
I believe that ABAP Academy is the right place, where I can do all of it. I can serve you in teaching you ABAP and becoming skilled professional.
I went through couple of SAP courses and received certificates to be able to work on specific topics. Some of those courses were official SAP courses and some not. But those trainings were not a magic stick at all. At the end, it was only hard work with doing mistakes on real projects and provided help from my mentor, which made me understand things, so that I could become expert in programming.
Based on my previous experiences, I have realized that the best approach to learn programming for me, is to get relevant amount of theory and then as soon as possible put hands on keyboard with somebody near to me, who understands a topic very well. After I started to do coding, many questions came to my mind, which I could not realize during training. I have realized that theory often gets clear, when you first run your program and it suddenly works ;).
Either I was at school, at the university or at work, I was always looking for the most effective way to do things. Then I could spend my remaining time either with my family, friends or I could offer my time to my voluntary projects.
Because at the end, it is not only about programming and work at all. I do this to be able to spend time and money on much more valuable things. For me, it is my wife and children, family and people in my area who need help and do not have resources for that.
What is ABAP Development from my point of view?
ABAP Development is not only about programming syntax, which makes you developer. It is also about knowing SAP environment, which can show you all the possibilities of what you can or can't do. It is also about the way of development planning in the way that you will be able to let your customer know realistic effort estimates. It is about knowing many SAP dependent processes, which need to be done after development is finished and before the project can be really closed.
I have decided to share my knowledge, because I see that such practices are not available in regular trainings.
I have decided to share my ABAP knowledge and all the best practices, so that whoever would like to become either an ABAP developer or SAP consultant with gained experiences for real life, he/she can learn it effectively and by his/her own speed in the new way.
I have decided to serve you as good as I can to help you become ABAP Professional.
ABAP Academy is Educational Platform of IT Labs s.r.o. (This website is not affiliated with, sponsored by, or approved by SAP AG) 
IT Labs s.r.o.
Kiarov 23, 991 06 Kiarov
Identification Nr. (IČO): 50 843 834
Tax Identification Nr. (DIČ): 2120505662
Registered in the Business Register of the District Court Banská Bystrica, Section: Sro, Insertion No.: 31915/S, issues 
Do you have ABAP related question? Want to participate in ABAP Academy and be featured here? Get in touch and lets talk about your questions ;)