Notice: This article is applicable to SAP NW 7.3 Trial System.
Once you start to create or edit programs, you will be asked for development Access key. This is needed to be able to start coding in SAP or to create any type of objects. You have to provide the key even the user has all needed authorizations.
[sociallocker id="1121″]
Tip: Firstly try one of these access keys before you proceed in reading this article: "07222097363139263004" or "29671482393151224771".
If access keys from above does not work for you, read further.
How to get access key in SAP Trial version?
Go to your installation documentation folder and choose start.htm (e.g. "\NWABAPTRIAL70304_64\start.htm" ).
Search for term "developer key" or "access key".
Paste it into "Access key" field.
Hit "Continue" button.
From this point, you will be officially registered within your SAP system that you are a developer.
[/sociallocker]
Do you see the following popup window?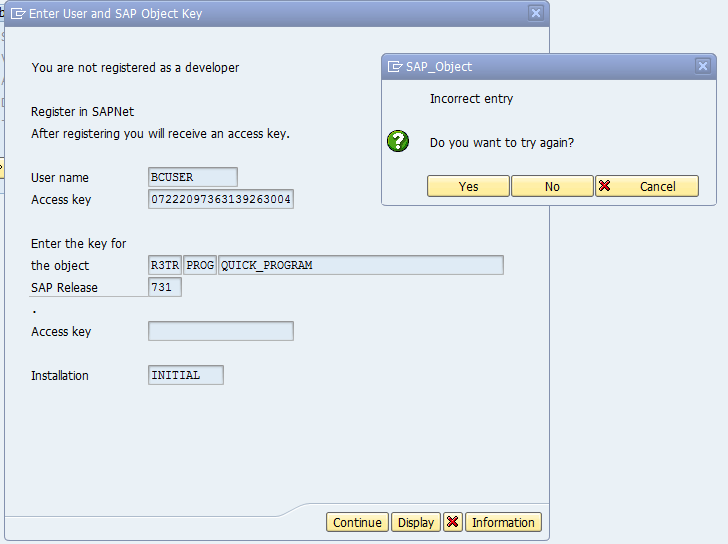 If you see the following popup window and you are using SAP NetWeaver Application Server ABAP Trial System, then you have different problem.
[sociallocker id="1121″]
In this case, when you are trying to create a program, which does not start either with "Z" or "Y" (this is the naming restriction for all SAP customer programs), you may see that popup window.
The solution is the following: Create a program, which starts either with "Z" or "Y" and you can proceed creating your program.
[/sociallocker]