This updated step-by-step process will show you how to download official and FREE of any charge SAP Netweaver AS ABAP 7.52 SP04 Installation Files software, with up-to-date links relevant from the end of 2021 up to March 2023.
UPDATED October 2023

We've updated the download SAP links and the whole step-by-step procedure of getting the newest SAP system for practicing ABAP
Before You Start Downloading
Who is This SAP System For?
If you are looking for the system for practicing ABAP programming on your own local machine officially and for FREE and without any further charges in the future, then this system is right for you.
Notice: This system is going to be for your personal use only!
It means you won't be able to do commercial work on it.
You'll be able to use it as a:
Learning system or
Sandbox system to play around with anything (so that you won't need to worry you break something on your company system).
By running this SAP system you will be able to do the following:
The goal at the end of this article for you is to have downloaded the system which will help you to run your own local, official and FREE SAP system so that you can start to practice coding in ABAP programming language right away.
What Does This SAP Netweaver Download NOT Include?
This is NOT IDES System
If you are looking for a system which contains all the modules like MM, SD, PP, … then this is NOT the right system for you.
If you want to have these modules included in your SAP installation, then look for SAP IDES system installations instead.
This SAP contains a lightweight system which includes an ABAP Server and BW module and is mainly for the educational purposes of the individual.
Does NOT Contain HANA Database
This SAP System runs on the Sybase IQ database from SAP itself.
However, if you are looking to practice specific ABAP on HANA features, you WILL BE ABLE to practice ABAP on HANA-specific programming techniques.
Hardware Requirements
Before you download the SAP software installation files, please make sure that you will be able to install it on your local machine.
Here are the hardware requirements for your PC in order to run the SAP system properly:
It is mandatory that you use a 64-bit OS version.
x86_64 Processor-based hardware
At least 4 GB RAM plus about 8 GB swap space
About 100 GB of free disk space for server installation
About 2 GB free disk space for client installation
Step-by-Step Download SAP System Guide
Go to the following SAP's official link to get the installation files:
https://developers.sap.com/trials-downloads.html?search=7.52
Download all the resources from the following page: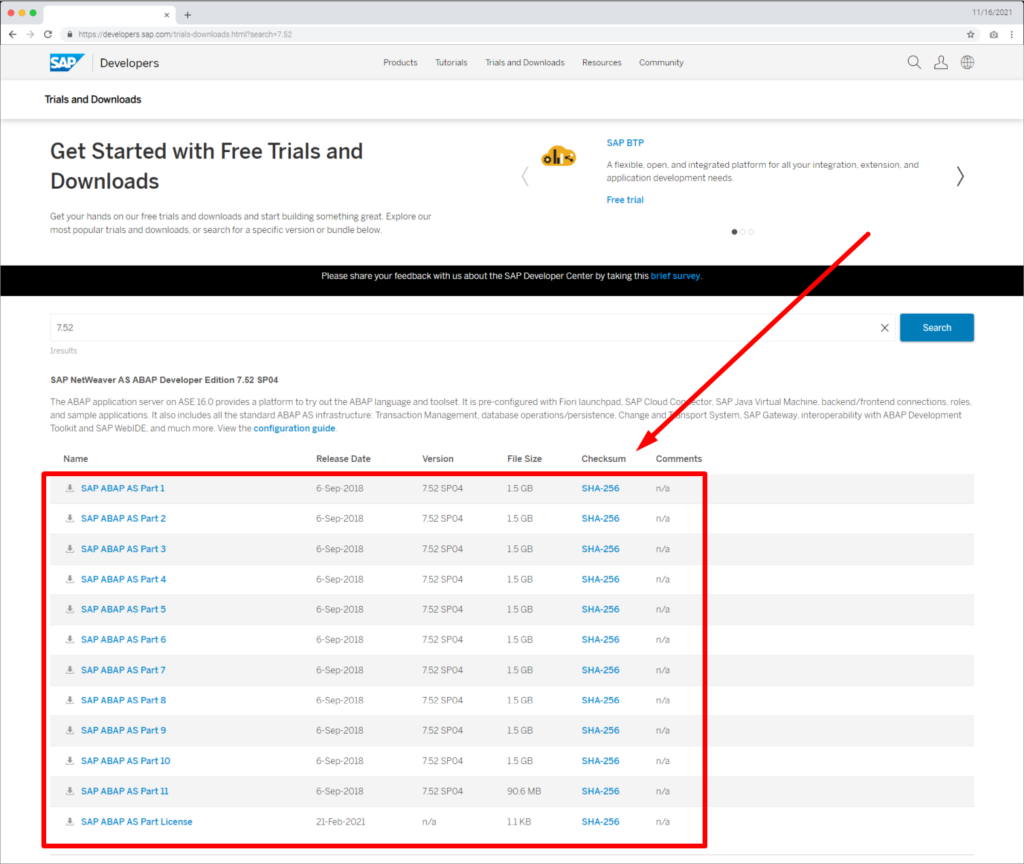 Download Process
Notice: In order to be able to download files, you will have to be logged in to the SAP portal. You can either register for FREE or directly log in if you already have an account.
Use your E-Mail, ID, or Login Name and hit "Continue".
Insert your password, check "Remember me" checkbox because otherwise you will have to log in for each and every SAP download file separately, and hit "Log On".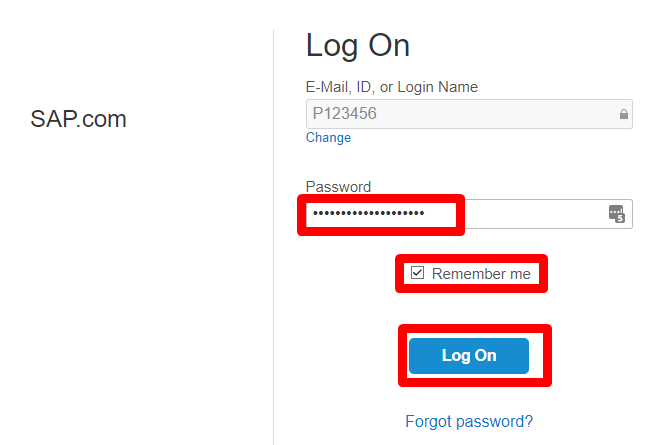 Once you log in, read and accept SAP's license agreement and hit "Submit".

And now you can click the button to start downloading the first installation file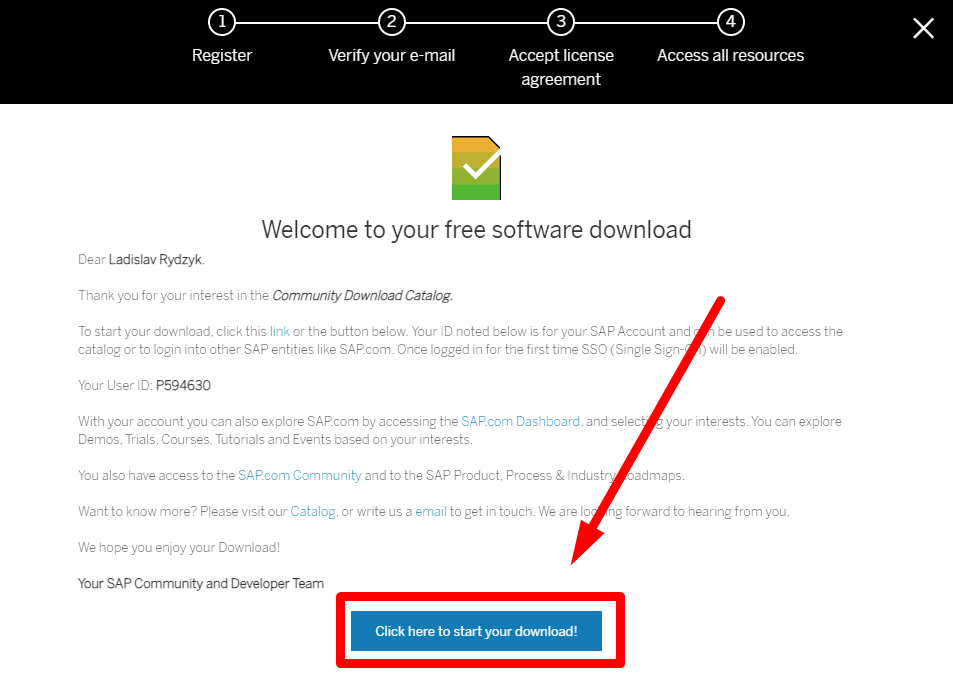 New tab in your browser will open up along with downloading the file.
You can now close this tab even if your download is in the progress.

Now move back to the download page and continue the process of downloading the rest of the installation files.
Once done, this is how your downloaded files will look like in your PC:
Troubleshooting
Do you have any questions? Or has the installation link been changed already and you no longer see it available?
Just head over to the Comments section in this blog post and let us know.
We will check it out for you and update the process to keep it up to date.
What's the Next Step After SAP Download in the whole Installation Process?
After the the download continue with the following:
Like this article first ;-)
Click the following button to install this SAP system on your PC